About this Test
This straightforward ancestry DNA test will trace your DNA and compare it against 14 anthropological regions and hundreds of global populations whose combined genetic information is scientifically validated. The likelihood that your genetic information is related with each one of these regions and populations is then measured. The results are then plotted on a very high resolution map illustrating your unique GeoGenetic heritage from a regional analysis and a by-population view.
Results will be available 2-3 weeks after receipt of samples.
Important: Please note that Genetic Testing Laboratories does not provide a raw DNA result file of this ancestry test.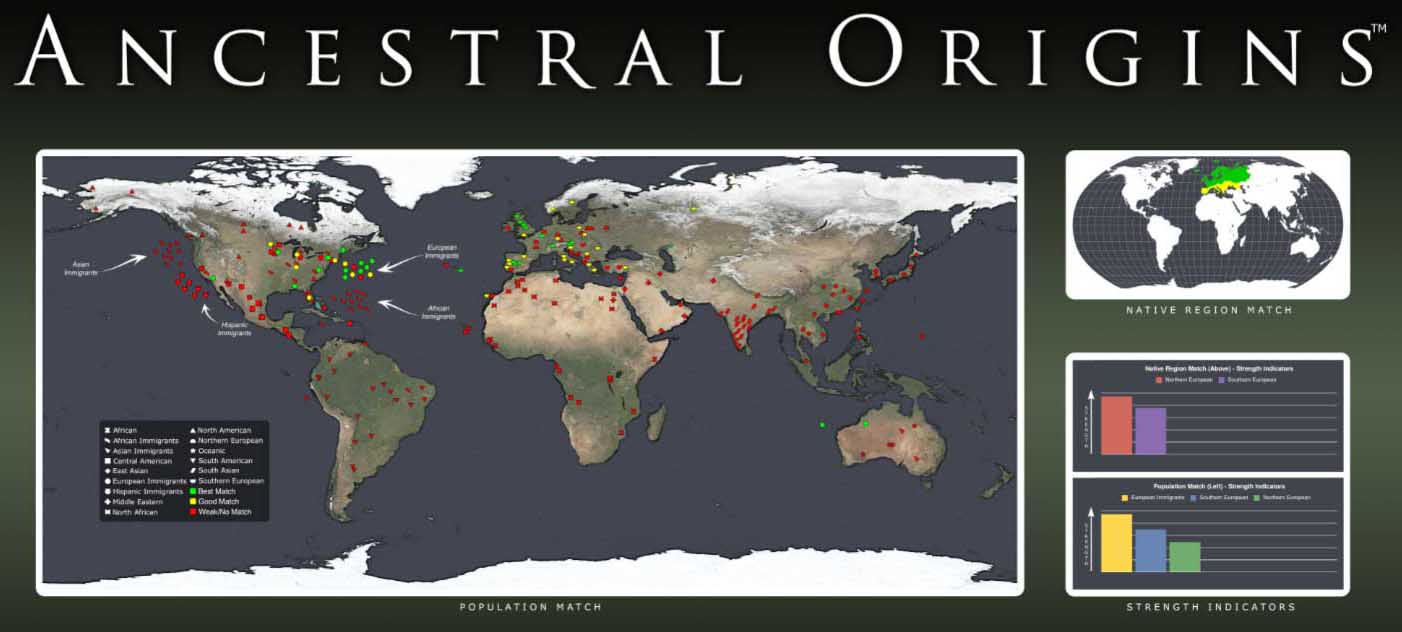 Our Ancestral Origins™ test laboratory processing cost is £139 for the standard map and £149 for the extra-large map.
The Ancestral Origins DNA Ancestry Map
Using the Ancestral Origins™ DNA ancestry test to trace your ancestry and DNA genealogy allows you to benefit from GTL's experience and position as one of the world's foremost human identity DNA analysis laboratories. Data from our own population databases as well as organisations such as the Yale School of Medicine and scientific publications including The Journal of Forensic Sciences and Forensic Science International has been compiled into what has become the Focused GeoGenetic Database or FoGG DB™. An analysis program called FoGGPopper™ has been developed to extract relevant data from the FoGG DB™ and then follow specific algorithms and carry out calculations to determine an applicant's strongest DNA ancestry. A personalised Ancestral Origins™ DNA ancestry map is created using the data from this DNA ancestry analysis.
Each unique Ancestral Origins DNA ancestry map is made up of three key components:
Population Matches: Each applicant's DNA is measured individually against every population in our database and a mark given to indicate how strongly the DNA profile matches against each of the tested populations. On the Ancestral Origins™ Population Match map, each population has a specific shape to indicate which anthropological region that population belongs to as well as a colour to show how strong the match is with that population. The strongest match is green, a good match is yellow and a weak or no match is red.
These calculations also take into account three unique anthropological regions which are in fact groups of populations that have migrated from a native land to somewhere else. These dispersed populations are European Americans, African Americans and Hispanic Americans.
Native Region Matches: A further set of calculations are run, excluding the dispersed population regions, to determine the strongest links with anthropological native regions. Again, the strongest match is green and any other matches are shown in yellow. Because the Native Region map does not include any data relating to dispersed population regions, it can be thought of as more of a "deep roots" match.
Strength Indicators: The Population Match Strength Indicator displays the collective strength of all the populations in each matched region and compares each region against each other as a graph. This allows each applicant to instantly identify how individual population matches compare with other matched regions in addition to the information shown in the map.
The Native Region Strength Indicator displays as a graph how the strength of each native region compares with any other matched native regions.
Why not view a sample of the Ancestral Origins™ DNA Ancestry Report?
Delve even deeper: upgrade your ancestral origins test
Upgrading your ancestral origins test means you can have some extra information about your ancestral roots, adding to the existing wealth of knowledge you will discover with our standard ancestry test. Opt for this option and find out more about your origins.
Results will include:
A pie chart with a breakdown of your genetic origins
An explanation of genetic origins
The test upgrade is available for just an extra £30
View the ancestral upgrade option by clicking the below image.

More Information
Applicants with DNA Profiles
Personalised Ancestral Origins DNA Analysis Report
Professional Interpretation
Quality, Size and Personalisation
Applicants who already have a DNA profile and would like to use it to generate an Ancestral Origins™ DNA Ancestry map can call one of our Customer Service Advisors for a quote on 0333 300 3130. GTL customers who have carried out a DNA test within the last 3 months qualify for an extra discount.
Personalised Ancestral Origins DNA Analysis Report
Also available is a personalised Ancestral Origins DNA Analysis Report together with an account of historical migration, which will explain how different populations have moved around the world. This coupled with your personal results will give you a more comprehensive insight into your ancestral roots. Your personal report will include your DNA Profile together with your regional affiliations, the number of population matches and names of the population database with the closest matches to your unique DNA profile.
Please click on this link to view an extract from a sample Ancestral Origins DNA Ancestry test report.
We offer a professional telephone interpretation once you receive your Ancestral Origins DNA Ancestry map and report. Consultation sessions are up to 15 minutes in length and are provided by telephone only. If ordered at the same time as submitting your samples for testing, the advanced purchase price per consultation session is £65. This service can be purchased after you receive your map for £75 per session. Consultation sessions may not be recorded or reproduced without the expressed written consent of Genetic Testing Laboratories.

Quality, Size and Personalisation
Each Ancestral Origins™ DNA Ancestry map is printed on glossy photographic paper using a photographic-quality five-dye printing process. This process produces rich and beautiful images suitable for framing. Ancestral Origins™ DNA Ancestry maps are available in two sizes: the Standard 17″ x 10½" (43 x 27cm) version or Extra Large 27¼" x 17″ (69 x 43cm) version which makes a wonderful gift and costs only £10 more. Each map is custom made and will include "Exclusively prepared for" followed by the applicant's name.
Please click on this link to view an extract from a sample Ancestral Origins DNA Ancestry test report.
Order Now