Accurate and Reliable
Taking a home paternity test may not have been an easy choice for you and one of the main things on your mind is receiving results that you can trust and totally depend on. GTL make sure we provide clients with results that are reliable. A home paternity test result will in fact give you very clear cut answers; if the tested alleged father is the biological father, our test will provide a result accurate to more than 99.99%. If the tested alleged father is not the biological father, our test will provide a 100% accurate result.
Quick Home Paternity Test Results
Waiting for home paternity test results can be an emotional process. GTL totally understand the emotions that our clients go through. We promise to get your results delivered to you in 3-5 working days from the moment we receive your samples. This is why we make sure the testing laboratory works efficiently and that all administrative procedures function smoothly. If the few simple steps and precautions outlined in our kits are followed, results will be totally conclusive. We also offer an express DNA testing service which will shorten the wait for your results to just 3 working days from the moment samples are in the laboratory.
If you are wondering how our paternity tests remain so cheap, we suggest you visit our page on cheap paternity tests.
Testing Different Samples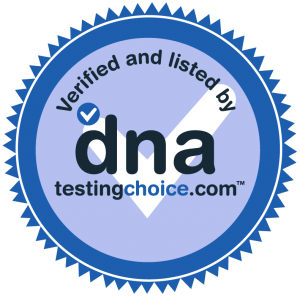 Our home paternity test is carried out using mouth swabs since this is the quickest sampling method and offers very high success rates when analyzed in the laboratory. But this does not mean that Genetic Testing Laboratories cannot use other types of samples. We understand that collecting mouth swab samples is not always possible and you can also send us other types of samples including hairs, semen, blood stains, nail clippings or used Kleenexes. Because samples can vary so much and not all samples may be suitable for testing, we strongly suggest you contact our customer support team to discuss your sample before sending it in for analysis.
Accreditation Matters
Laboratory accreditation is the most important aspect of your home paternity test and will ensure you get the most accurate results. Accreditation is the process in which certification of competency is presented. The highest standards are set by a third party accrediting body and GTL only works with laboratories having the most widely recognized accreditation. Please visit our Accreditations and Partners page for full details and to view accreditation certificates.
We can Test Outside the UK
GTL is able to provide DNA testing even if an individual taking part in the test lives outside the UK. We will organize the whole test including the dispatch of kits to different locations.
The Human Tissue Act
It is important to be aware that in the UK the Human Tissue Act regulates the collection and analysis of any human tissue. In order to send a sample for analysis for your home paternity test, the person or donor of that sample must give their consent in writing in order for us to test their sample. Furthermore, in order to be fully compliant with the Human Tissue Act, the donor of the sample must also be made aware of how their DNA sample will be used. Failure to comply with the Human Tissue Act is a criminal offence.
Order Now